<!-ShowPage(index.html)->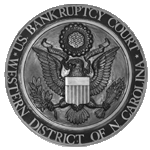 Welcome to the U.S. Bankruptcy Court for the Western District of North Carolina
<!-ShowPage(OperationNotice.htm)->
---
CM/ECF Version 5.1.1 C
---
Beginning in January 2017, Charlotte Chapter 7 motion days will typically be heard
on the first and third Mondays of the month beginning at 9:30 a.m. Previously, these motions
were heard on Thursdays.

---
Asheville February 7, 2017 Chambers Day Cancelled
Please contact the chanbers staff in the Charlotte Office if a hearing is necessary prior to the regular
February 20 - 21, 2017 court term.

---
Changes to the Miscellaneous Fee Schedule
At its September 2016 session, the Judicial Conference approved inflationary
adjustments to fees on the Bankruptcy Court Miscellaneous Fee Schedule.
These changes will become effective December 1st, 2016.

---
For the latest information and updates visit
WWW.NCWB.USCOURTS.GOV
---
Electronic Bankruptcy Noticing
---
The Court's Mailing Address Changed

Effective Oct 1st, 2011, the Court's mailing address is:
401 W. Trade St, Charlotte, NC 28202




---
27August2015
Court Information