<!-ShowPage(index.html)->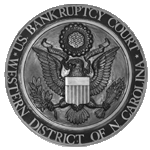 Welcome to the U.S. Bankruptcy Court for the Western District of North Carolina
<!-ShowPage(OperationNotice.htm)->
---
CM/ECF Version 5.1.1


---
Charlotte April 2016 Hearing Date Rescheduled
The Charlotte April 26, 2016 Chapter 11 hearing date has been rescheduled to Friday, April 22, 2016.
Attorneys expecting lengthy hearings should contact Chambers for a special setting.

---
Asheville November 2016 Chambers Day Cancelled
The Asheville Chambers date on November 1, 2016 is cancelled.
As an alternative, attorneys may schedule hearings for matters in Chapter 13 and 7 cases for November 15 at 9:30 a.m.
and hearings for matters in Chapter 11 and 12 cases for November 16 at 9:30 a.m.
If there is a need for a special setting please contact the judge's chambers in Charlotte at (704) 350-7575.

---
Shelby Court Docket
Beginning in January 2016, Judge Whitley's Shelby hearings in cases filed under Chapters 12 and 13 will be set at 9:30 am.
Cases filed under Chapters 7 and 11 will be set at 10:30 am.

---
For the latest information and updates visit
WWW.NCWB.USCOURTS.GOV
---
---
The Court's Mailing Address Changed

Effective Oct 1st, 2011, the Court's mailing address is:
401 W. Trade St, Charlotte, NC 28202
The PO Box is no longer available.



---
31August2015
Court Information