<!-ShowPage(index.html)->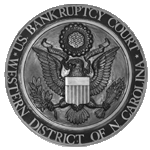 Welcome to the U.S. Bankruptcy Court for the Western District of North Carolina
<!-ShowPage(OperationNotice.htm)->
---
CM/ECF Version 5.1.1.2 C
---
Chapter 13 Plan (Local Form 4) and Amended Plan (Local Form 4A)
The court is planning to adopt a revised local Chapter 13 plan form (Local Form 4)
and amended plan form (Local Form 4A) on Decmeber 1, 2017. The court is providing
the proposed revised forms prior to their adoption for review by the bar and the public.
Please visit www.ncwb.uscourts.gov for more information.

---
Upcoming "Attorney for Debtor Training"
---
The Asheville November 7, 2017 court date is cancelled.
If there is a need for a special setting before the regular November 21, 2017 court term,
please contact the judge's chambers in Charlotte at (704) 350 7575.
As a reminder, all chapters will be heard on November 21, 2017.

---
Beginning in January 2017, Charlotte Chapter 7 motion days will typically be heard
on the first and third Mondays of the month beginning at 9:30 a.m. Previously, these motions
were heard on Thursdays.

---
For the latest information and updates visit
WWW.NCWB.USCOURTS.GOV
---
27August2015
Court Information