<!-ShowPage(index.html)->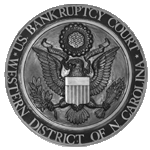 Welcome to the U.S. Bankruptcy Court for the Western District of North Carolina
<!-ShowPage(OperationNotice.htm)->
---
CM/ECF Version 5.1.1


---
Shelby Court Docket
Beginning in January 2016, Judge Whitley's Shelby hearings in cases filed under Chapters 12 and 13 will be set at 9:30 am.
Cases filed under Chapters 7 and 11 will be set at 10:30 am.

---
For the latest information and updates visit
WWW.NCWB.USCOURTS.GOV
---
---
The Court's Mailing Address Changed

Effective Oct 1st, 2011, the Court's mailing address is:
401 W. Trade St, Charlotte, NC 28202
The PO Box is no longer available.



---
31August2015
Court Information