<!-ShowPage(index.html)->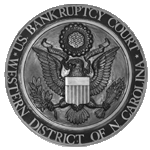 Welcome to the U.S. Bankruptcy Court for the Western District of North Carolina
<!-ShowPage(OperationNotice.htm)->
---
CM/ECF Version 5.1.1 C
---
Changes to the Miscellaneous Fee Schedule
At its September 2016 session, the Judicial Conference approved inflationary
adjustments to fees on the Bankruptcy Court Miscellaneous Fee Schedule.
These changes will become effective December 1st, 2016.

---
Asheville December 6, 2016 Chambers Day Cancelled
The December 6, 2016 Asheville Chambers day is cancelled.
As an alternative, attorneys may schedule hearings for matters in Chapter 13 and Chapter 7 cases on Decmber 20, 2016 at 9:30 a.m.
and hearings for matters in Chapter 11 and Chapter 12 cases on December 21, 2016 at 9:30 a.m.

---
Shelby Court Docket
Beginning in January 2016, Judge Whitley's Shelby hearings in cases filed under Chapters 12 and 13 will be set at 9:30 am.
Cases filed under Chapters 7 and 11 will be set at 10:30 am.

---
For the latest information and updates visit
WWW.NCWB.USCOURTS.GOV
---
Electronic Bankruptcy Noticing
---
The Court's Mailing Address Changed

Effective Oct 1st, 2011, the Court's mailing address is:
401 W. Trade St, Charlotte, NC 28202




---
27August2015
Court Information