<!-ShowPage(index.html)->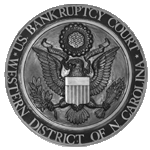 Welcome to the U.S. Bankruptcy Court for the Western District of North Carolina
<!-ShowPage(OperationNotice.htm)->
---
CM/ECF Version 5.1-0


---
Lunch and Learn with Chief Judge Beyer and Judge Whitley, September 18, 2015
Bankruptcy practitioners and trustees are cordially invited to join Chief Judge Laura Turner Beyer and Judge J. Craig Whitley for a lunchtime discussion of the following topics:
CourtSpeak Digital Audio Program
Using the New Court Website
New Bankruptcy Forms
News and Views from the Bench
from 12:00 - 1:00 pm on Friday September 18, 2015. This event will be held in Suite 205 (341 Meeting Room), Office of the Bankruptcy Administrator, 402 West Trade Street, Charlotte. Lunch will be provided. Register to attend by calling Sara Durkin at 704.350.7548.

---
For the latest information and updates visit
WWW.NCWB.USCOURTS.GOV
---
---
The Court's Mailing Address Changed

Effective Oct 1st, 2011, the Court's mailing address is:
401 W. Trade St, Charlotte, NC 28202
The PO Box is no longer available.



---
7June2012
Court Information